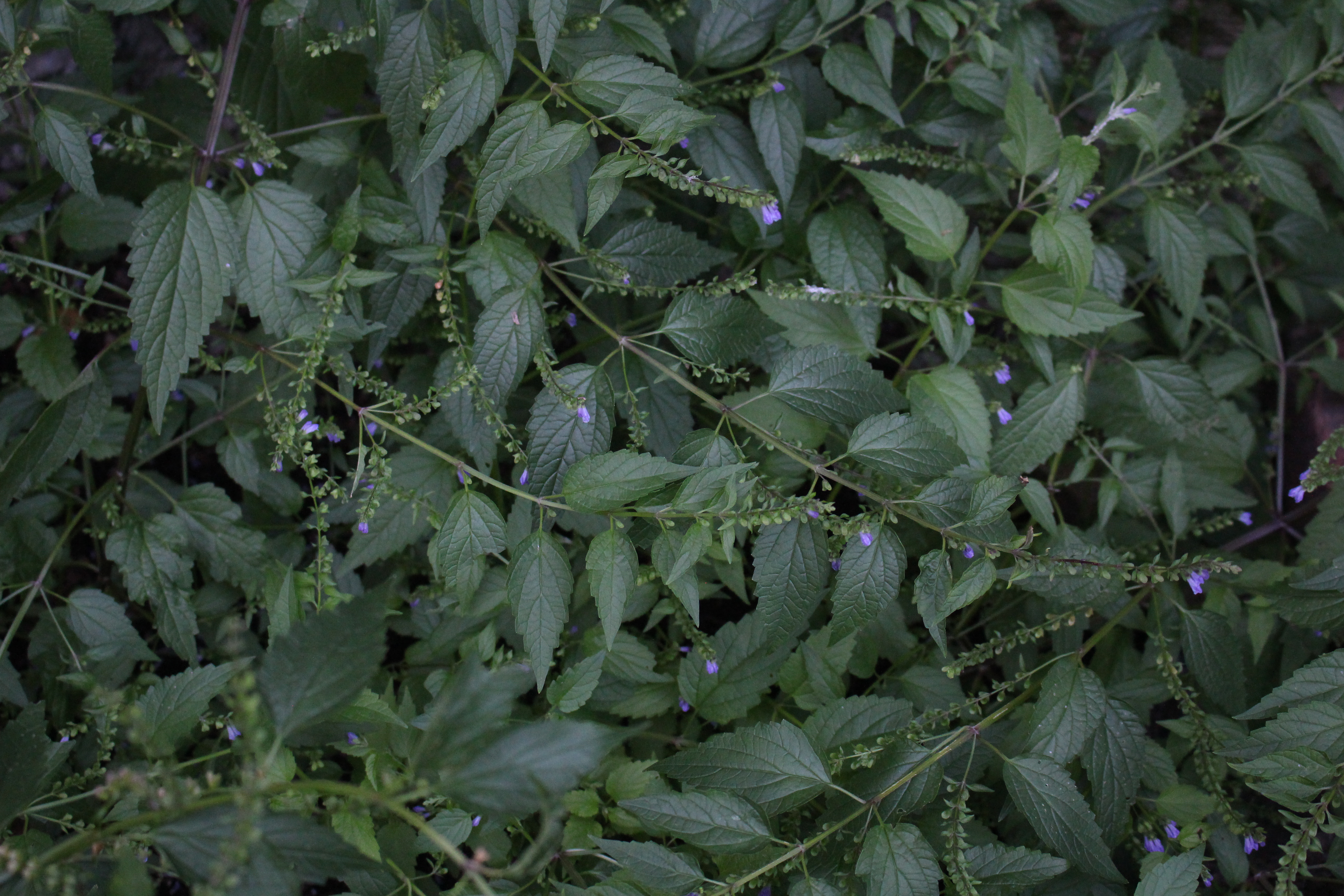 This has been the first growing season that Skullcap has thrived in my garden. Up until now, I've yet to meet this herb in person, though I've worked with this plant ally for several years as a gentle moderator of anxiety and bodily tension.
By mid-August, to my surprise, after a long sojourn apart from my garden, I approached the Skullcap patch to witness none other but: Chaos. Four plants grew in a bed on the side of the house which gathers a lot of rainwater from the roof, for Skullcap likes wet feet. Yet, in this moment, the plants intertwined in such a way that left them indistinguishable from one another. Crowned with purple flowers and soon-to-be-seeds, the leaf stalks protruded with straight strength in opposing pairs from the main stems of the plants. I realized that each plant was incredibly structured, with every individual growing to allow room for its neighbor, yet together, they created a mess of petioles and leaflets expanding in seeming disorder.
Surprise rippled through me, along with a wonderment to understand this puzzle. Through the Doctrine of Signatures, we herbalists understand that the way a plant physically portrays itself hints to its medicine. I already knew Skullcap as a plant that allowed me to unwind, to shed weight from my shoulders and guide me calmly to the present tense. So why did it thrive in such seeming disarray?
And with that question, I soon arrived at an answer: Skullcap encourages us to flourish within the Chaos. Amidst the bombardment of daily happenings, swelling grief, and unrest, we may take a sip of Skullcap and find a space of solace that nourishes our inner strength to withstand this modern life. As a gentle nervine, I find that this plant ally shines in taking the nervous edge off while still enabling us to be clear-minded and level-headed. It eases tension held in the nerves and subsequently, since they're connected, in our musculature and digestive system.
My favorite way to work with Skullcap as of late is as an herbal infusion. Steep 1 heaping teaspoon in a cup of freshly boiled water, sip, and unwind ✨ Find your own via my Simply Skullcap Tisane in my shop.
My garden Skullcap also stars in my Calm Sky Mind vibrational elixir.